The Marketing Center provides essential tools to help grow your business. This app contains printable Book of Memories advertisements as well as website search results and statistics. The Marketing Center is an ever-evolving tool; you will have access to search data from your funeral home and those in your state/province or country.
Marketing Center > Ad Library.
Select an ad from the menu. Select one of the Download buttons.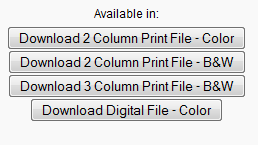 On the Adobe Acrobat Document pop-up, click on Open with, then click the OK button. (If you don't have Adobe Reader installed on your computer, download it here.)
Once the ads download and open, there is room on the ad for your funeral home's logo.