Accessing Website Editor
When accessing the Website Editor tab you may be presented with a page that looks like this:

This is typically because you are accessing the Website Editor on that specific computer or browser for the first time.
You should see a Pop Up Blocker in the URL line, at the top right of your screen.


We recommend you "always allow pop-ups" for this site. Click the circle to Always allow and then click Done.
Then access the pop-up blocker again at the top right, and click the blue link to open your Website Editor.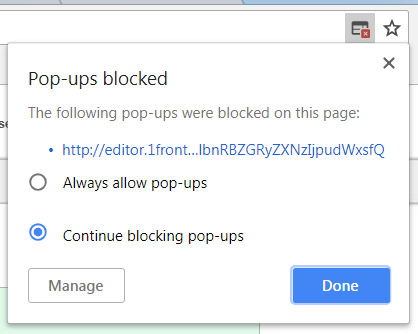 You may also click 'Login to Editor' if presented with this page.
Contents:
Editor Overview
Sections
Edit Text
Manage Content
Adding Widgets
Widget Design
Arrange Content
Page Organization – Site Map
Navigation and Sub-Navigation Menus
Choose and Place Image