The Website Obit Notification app allows online visitors who are interested to receive funeral service notifications when new obituaries are posted. They can sign up by entering their email address and submitting.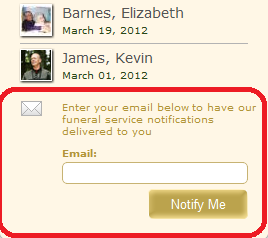 Those who sign up will receive emails once a day notifying them of any new obituaries added to your website. The emails also contain a link allowing them to unsubscribe from the emails at any time.
The emails contain the following information:
Recent Services added to 'Funeral Home Name' website.
This is an electronic notification that the following have passed on and resting at 'Funeral Home Name'. If you would like to pay your respects please click on our links provided below.
John Doe – View Online Memorial
This notification has been generated and sent to you as a result of you signing up for obit notifications at the Funeral Home Name website. If you are receiving this email in error, or would no longer like to receive obit notifications, please click here to unsubscribe.