As more people do online research before ever visiting a business, it only makes sense that your funeral firm would provide all the information your community needs to make informed decisions. Further, if consumers feel comfortable with your firm and the information you've presented, there's a stronger possibility that they would be willing to take the additional step to pre-arrange online. This application allows an online visitor to create a profile within your system. The online visitor can re-visit their profile to update or make changes at any time. When ready, the visitor can submit their information to you, the funeral home. Not only do you receive an email notification of the submission, you are also able to review and import their profile information to become a new pre-need record in your system.
The form is very straightforward for users who designate the arrangement details by entering basic personal information.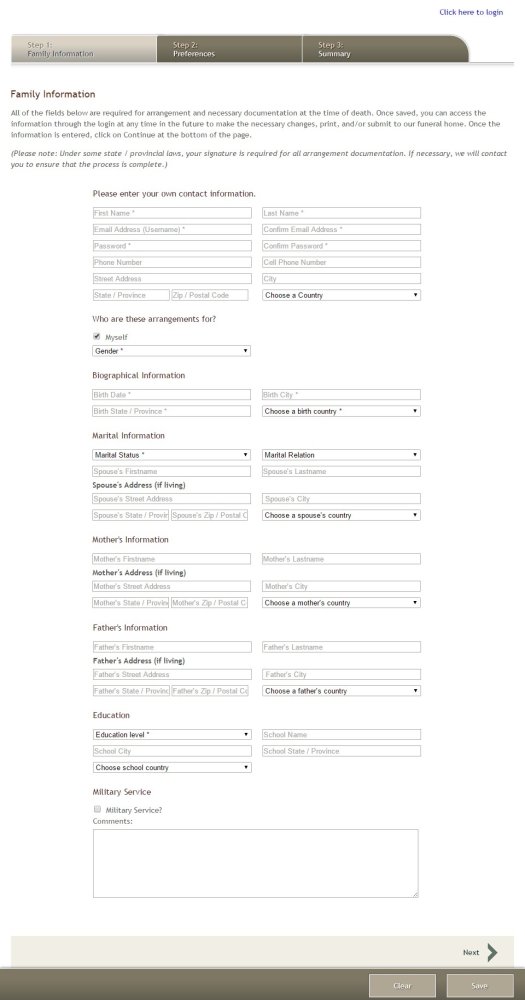 Complete the Family Information section and click NEXT at the bottom to continue filling out the service Preferences.
When completed the online visitor will be able to review their Summary of Family Information and Service Preferences.
The online visitor will be able to build multiple pre-arrangements. They will have the ability to Edit existing pre-arrangements, Delete, Send the pre-arrangements off to the Funeral Home and downlaod the PDF Summary file.

How to Review and Import Arrangements in your Pulse System
Under Main > Quote Builder > Submitted Quotes, you will see all submitted arrangements from your website.
Beside each Client Name, you will see the buttons Import and Preview.
Preview will allow you to view the Summary PDF form and the Import will allow you to import this arrangement as a new PreNeed Record.
Once you have imported the arrangement to create a PreNeed record, you will no longer see the arrangement in the Submitted Quotes tab, but rather you can find the individual within your PreNeed records.

Please contact your Account Manager (success@frontrunner360.com), should you wish to integrate this Pre-Arrange Online form on your website.