Claim Your Business
Google Places is a feature to help get your website noticed online. Your business stands out when it's listed at the top of the Google search engine results page. By claiming your business through Google, you can improve your search engine rankings and provide online visitors with instant access to your company's contact information and a description of the services within your business category.
As shown below, when Le Chien Noir is searched in Google, a great deal of information becomes instantly available to online visitors.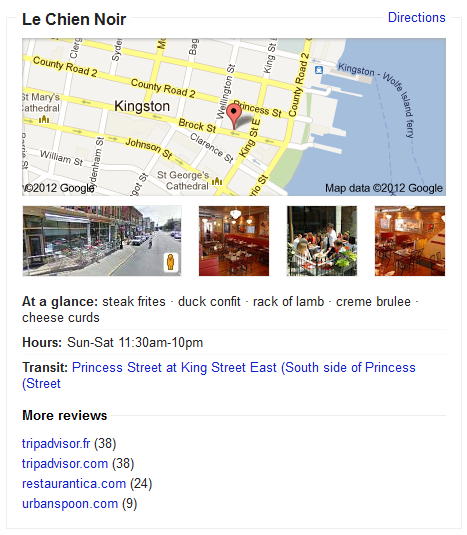 Navigate to the Google Places for Business website.
Select the Get Started button and create a Google account if you don't already have one. When complete or if you already have an account, enter your current email address and password to sign in.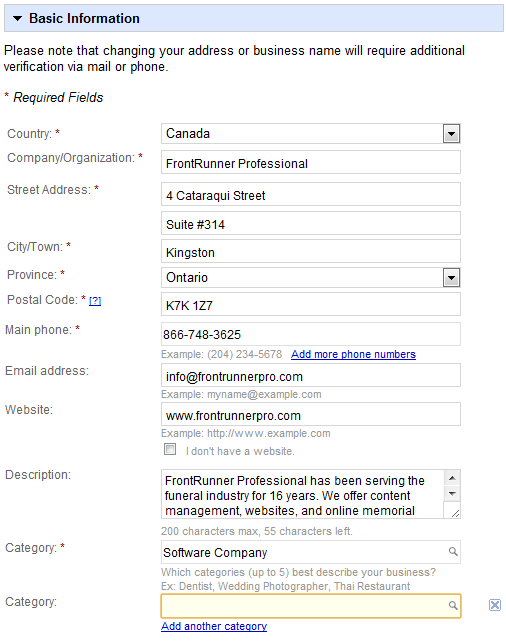 Use the dropdown to select your country.
Enter your phone number.
Select Find Business Information.
Enter your funeral home name and address information.
Enter your phone number and email address.
Enter the

URL

for your funeral home's website.
Enter a description about your company. Ex: Brown Funeral Home has been serving the Albany community for 100 years. We are family-owned. We offer cremation, etc….
Enter a category that best suits your funeral home. You can include more than one. Ex: Cremation, Pre-Arrange, Traditional Funerals
Enter whether families go to your funeral home or you go to their own home.
Enter your hours of operation (optional).
Enter the payment methods you offer (optional).
Upload an image of your funeral home (Choose File and select Add Photo).
Add Video if you have any videos you wish to upload.
Enter any additional information about your funeral home. Ex: Parking available
When complete, Submit.
The preview page is what online visitors will see when they search for your funeral home or funeral homes in your community.
You will also need to validate your listing. Google Places will outline the available options.
Click the Finish button.