Before you are able to use the QuickBooks Export feature, you must first integrate your QuickBooks account with the Pulse Management system.
Once the integration and configuration processes are complete, your firm will be able to:

Sync products and services with QuickBooks (if those are already set-up in QuickBooks).
Push products and services to QuickBooks (if those have not already been entered in QuickBooks).
Push invoices and any changes / updates of invoices to QuickBooks.


What you will need for QuickBooks to integrate in the Pulse System:

Supported version of QuickBooks installed on your computer (we currently connect only to the PC version)
QuickBooks Company File
QuickBooks .QWC file
QuickBooks Web Connector
You will also need to configure your taxes, products, and services in order to proceed.


Login to your Pulse system and navigate to System Settings > Arranging Director Admin > Accounting Integration – QuickBooks Desktop > Configuration Wizard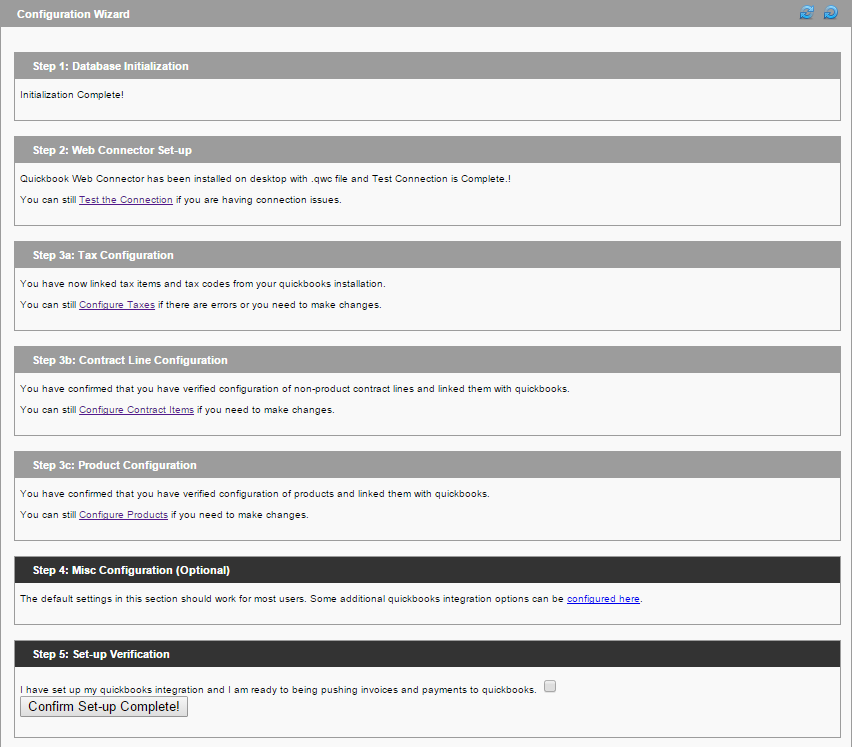 Step 1 & 2 : Database Initialization and Web Connector Set-Up
Step 3a: Tax Configuration
Step 3b: Contract line Configuration
Step 3c: Product Configuration
Step 4: Misc Configuration
Step 5: Set-Up Verification
Troubleshooting
← Arranging Director Admin Database Initialization and Web Connector Set-Up →